A Vendor Advocate gives selling advice.
"I sold a property and then purchased a property with much help from Buyer Solutions. Their help, attention and advice were superb – nothing was a trouble for them. I can thoroughly recommend them and their services."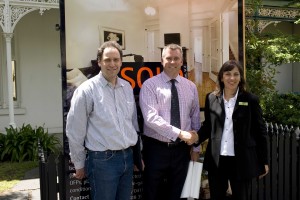 Selling a property is a major transaction. It can be stressful and costly. Mistakes eat into the profit you realise from the sale and the budget you have to put into your next property. As your Vendor Advocate we eliminate those risks and use our decades of experience and contacts to manage the project of selling your home and represent you at every stage of the selling process:
At our initial visit to your property we will advise on its likely selling price based on our extensive research, knowledge and current market conditions.
We will also advise on the best method of sale – Auction or Private Sale and what if any works should be undertaken.
We will advise on which agent is the most skilled, accountable and suitable for the job. This is a crucial part of Vendor Advocacy and where we can really add value. We are fully independent and have no allegiance to any agent. Because we buy so much property we know which agents are great and which aren't so great.
We will negotiate the agent's fees on your behalf with the selected selling agent and also help you make your final decision on method of sale.
We will advise on the most cost efficient and effective marketing campaign for your property and work with you on getting the property ready for sale. We will fine tune marketing copy and advise on presentation and details such as the best time of day for photography.
Throughout the campaign we are your eyes and ears. We liaise directly with the selling agent and report back to you after each inspection and ensure that s/he is working hard on your behalf.
We will attend the auction and/or private sale negotiations on your behalf to safeguard your interests and provide our opinion and support at the pointy end of the process.


Our Vendor Advocates represent your best interests. Our services are increasingly in demand as vendors see the need for someone acting totally in their best interest. As Vendor Advocates we have helped families throughout Melbourne sell their family home and transition them to the next phase of their lives. You can read the stories of some of the client's we've helped as featured in The Age and The Weekend Australian. You can also read what our clients have been saying on our Testimonials page.